Drive Honda Safe with Adaptive Cruise Control in Cookeville, Tennessee
Here at Cookeville Honda, we know that you're always using cruise control on I-40 when you're travelling to Nashville or Knoxville TN. What if there was something even easier and safer than standard cruise control? Introducing Honda's Adaptive Cruise Control (ACC). Adaptive Cruise Control uses a radar behind the front grille to monitor the road ahead. As the driver, you set the speed and the gap you want to maintain between you and the vehicle in front of you. The system slows you down if the traffic ahead brakes and then brings you back up to cruising speed.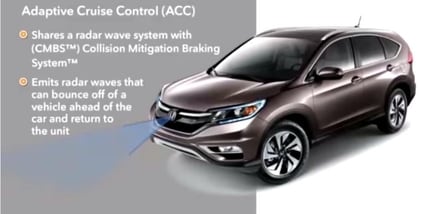 ACC's radar unit emits radar waves that bounce off of a vehicle ahead of the car and come back to the unit, letting the system assess the distance of the vehicle. The system then sets the suitable throttle position and can even apply light braking to maintain the preferred interval. You can control the distance between your vehicle and the vehicle in front of you by pr
essing the Distance button. Each time you push the button, the following distance setting cycles through short, middle, long, and extra long following distances.
Your car will travel at the set speed when there are no vehicles ahead of you
. When there is a vehicle ahead of you, your vehicle sustains the range selected with the Distance button by increasing or decreasing your vehicle's speed. Visual and audible alerts let you know to brake when a
vehicle in front of you abruptly slows down or another vehicle cuts in front of you.
Convinced yet? Click
here
to shop Cookeville Honda's New Honda Inventory!